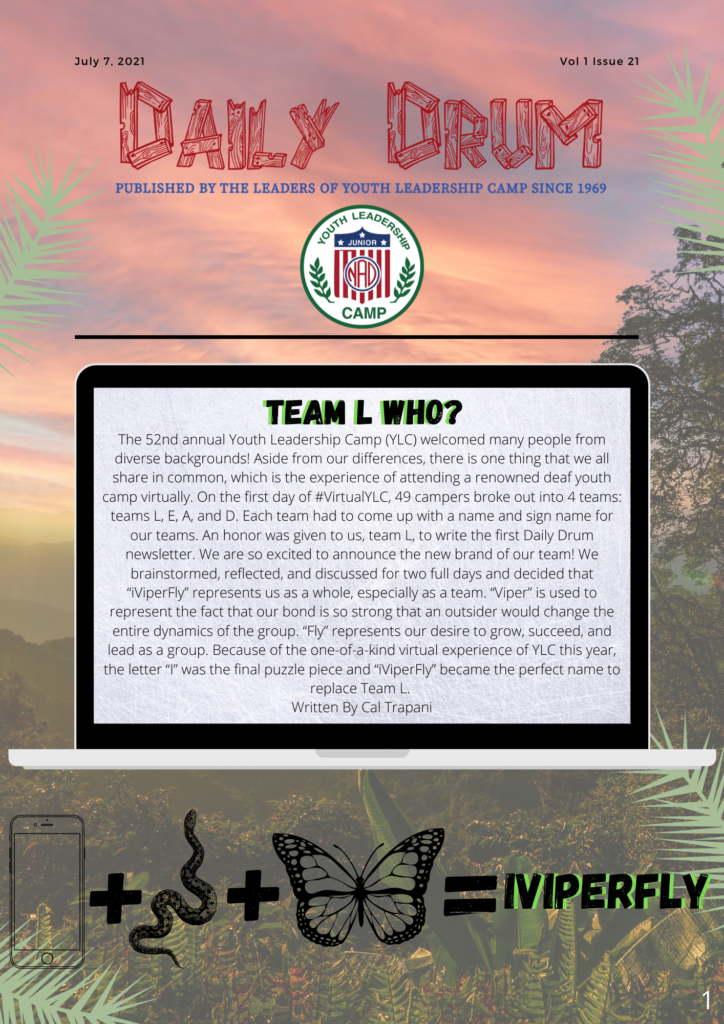 VIEW ISSUE HERE: https://issuu.com/nad1880/docs/daily_drum_-_78
TEXT BASED VERSION: 3 page newsletter
FRONT PAGE: The background is a graphic of a sunset in the outdoors. There are illustrations of tropical leaves scattered around the graphic. Text on top: "July 7, 2021 Vol 1 Issue 21" "Daily Drum: published by the leaders of Youth Leadership Camp since 1969". YLC logo is right below the Daily Drum header.
A laptop is centered of the front page. Text inside the laptop: "Team L Who? The 52nd annual Youth Leadership Camp (YLC) welcomed many people from diverse backgrounds! Aside from our differences, there is one thing that we all share in common, which is the experience of attending a renowned deaf youth camp virtually. On the first day of #VirtualYLC, 49 campers broke out into 4 teams: teams L, E, A, and D. Each team had to come up with a name and sign name for our teams. An honor was given to us, team L, to write the first Daily Drum newsletter. We are so excited to announce the new brand of our team! We brainstormed, reflected, and discussed for two full days and decided that "iViperFly" represents us as a whole, especially as a team. "Viper" is used to represent the fact that our bond is so strong that an outsider would change the entire dynamics of the group. "Fly" represents our desire to grow, succeed, and lead as a group. Because of the one-of-a-kind virtual experience of YLC this year, the letter "I" was the final puzzle piece and "iViperFly" became the perfect name to replace Team L. Written By Cal Trapani"
On the bottom of the newsletter, there are three graphics: "iPhone + snake + butterfly = IVIPERFLY"
PAGE 2 and 3: A full page spread with a background of tents in the great outdoors. Text on page 2: "Leaders instill in their people a hope for success and a belief in themselves. Positive leaders empower people to accomplish their goals. – Unknown" "Introducing our leaders"
On each page, there are six photos with Leaders' name, hometown, grade, and hobbies.
Page 2: Nate Goff: "Livermore, California, Senior, California School for the Deaf, Fremont, Hobby: playing disc golf, basketball, esports and sleeping."
Avery Meza: "Overland Park, Kansas, Graduated Kansas School for the Deaf, Hobby: viewing the nature, travel, make new friends, swimming, and hangout with friends."
Darison Daggett: "Rome, Georgia, Hobby: Reading Manga, biking, watching movies and writing"
Amaui Jennings: "Los Angeles, California, Graduated from California School for the Deaf, Riverside, Hobby: Listen to music, driving around, making new friends, and enjoying the nature."
Alesia Jaramillo: "Huntsville, Alabama, Graduated from Alabama School for the Deaf, Hobby: Hiking, skating, and making pottery."
ZaniBelle Hoglind: "Littleton, Colorado, Senior, Model Secondary School for the Deaf, Hobby: listen to music, play volleyball, and try new recipes"
Page 3: Zoe Abrams-Gay: "Phoenix, Arizona, Senior, Phoenix Day School for the Deaf, Hobby: Does math for living and loves to walk my fish"
Cal Trapani: "Annapolis, Maryland, Junior, Model Secondary School for the Deaf, Hobby: Walking dogs, playing volleyball, and crafting"
Annabelle Scroggins: "Austin, Texas, Graduated Texas School for the Deaf, Hobby: Listening to music"
Jalila Martens: "Sharon, Wisconsin, Graduated from Wisconsin School for the Deaf, Hobbies: Listen to music, being with my farm animals, playing sports, and sleeping"
Enow Otto: "Waldorf, Maryland, Graduated from Maryland School for the Deaf, Hobby: Vacuuming my pool"
Zarek Nathanson: "Austin, Texas, Graduated from Texas School for the Deaf, Hobby: Playing sports and doing outdoor activities with friends"
Text on the bottom of page 3: "YLC 2021 SIGN OUT!" and a YLC logo.