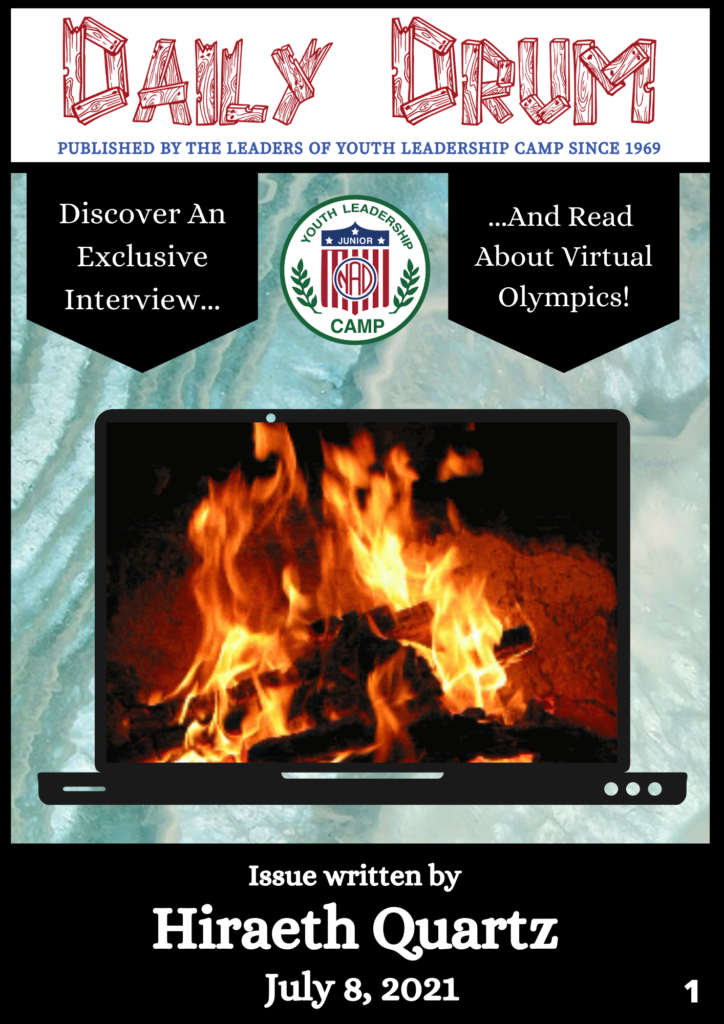 Read full issue here: https://issuu.com/nad1880/docs/e_team_1_
Text Version: 4-page newsletter
FRONT PAGE: A Daily Drum header with text: "Daily Drum, published by the leaders of Youth Leadership Camp since 1969. There is a NAD YLC logo in the center, below the header. Two banners with text: "Discover an exclusive interview… and read about the virtual olympics!" There is an image of a bonfire as a laptop screen. Black banner on the bottom with text: "Issue written by Hiraeth Quartz, July 8, 2021, page 1"
PAGE 2: Background image is of blue crystals with crystal illustrations. There is a black banner on the left with an article: "Interview with Builder Jett, Written by Alex Aguiar, This year's Youth Leadership Camp (YLC) session is definitely different from the usual camp experience. However, our builders continues to provide us with an authentic experience of YLC and shape us into leaders.We interviewed Jett Kelly, a builder, at YLC to gain insight in this unique situation. He stated, 'It may be different this year, but we still continue to develop bonding through face-to-face zoom sessions… We have to make the best out of this situation, and we (the NAD and YLC) really care about our future leaders, the campers.' – Jett Kelly". On the right, there is a text "Builder Jett Kelly" with his photo.
PAGE 3: Background image is of blue crystals with crystal illustration. A black banner is centered on top with an article: "Virtual Olympics Games, Written by Jalina Dietz, We had a Virtual Olympics on July 9th. There were four teams (iViperfly, Hiraeth Quartz, Insouts & Cyberspace). We played a lot of games against each other. One of the top favorite games was the Yank Me game, where we stacked index cards in between the plastic cups. We had to pull out the index cards without making the cups fall. We also played Water Bottle, Oreo, and Speed Erase Pencil Challenges. We had two group games – Zoom Pictionary and Ice River. Lastly, we played Kahoot trivia about the Deaflympics during fireside. We really enjoyed playing against other teams on zoom!"
On the bottom of the page, there are four images: 1) Jackie, Alejandra, and Zoe are smiling in front of a laptop; 2) Zefan poses in front of his laptop; 3) Saul is smiling with three cups stacked in front of his laptop; and 4) Melani is making a peace sign in front of her laptop.
PAGE 4 (last page): A pink crystal-like background with illustrations of crystals scattered across the background. Text: "Meet Hiraeth Quartz!" There are photos of each Leader under each category. Text: "Writers: Alex Aguiar, Sabrina Firl, Zefan Nathanson, Jalina Dietz." Text: "Builder: Emily Sidansky." "Editors: Melani Diaz and Rosalia Fraychineaud." "Editor in Chief (E.I.C): Babar Rahoo" "Assistant E.I.C.: Ryker D'Angelo." "Designers: Tommy Carroll, Ellie Lister, and Neelamma Behrens."