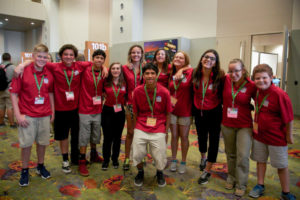 The Jr. NAD Pages is geared towards deaf and hard of hearing teens between 13 and 17 years old and interested in the inner workings and strategies of the NAD Conference.
Assignment
To serve as young citizens supporting the NAD Conference. Responsibilities include (but not limited to): assisting with people at the Hotel during their arrival; be a runner for the Council of Representatives (COR) meeting; provide support at workshops; and assist at all NAD@Night events as runners/distributors.
History of Jr. NAD Pages
The Jr. NAD Pages was an idea shared by Bridgetta Bourne-Firl, who was one of the four student leaders during the Deaf President Now (DPN) movement in 1988. Bridgetta brought her son to the 2012 NAD Conference in Louisville, Kentucky. She suggested to Tawny Holmes (NAD Education Strategy Team Chair) that a "pages program" be re-established; thus giving young people, like her son, a chance to experience the NAD Conference. Many state legislatures have a pages program affiliated with local high school students working closely with the state representatives. However, many NAD conferences in the past have experienced the involvement of Jr. NAD members, thanks to the leadership of Dr. Frank R. Turk, Dwight Benedict and others. In 2014, the first revived Jr. NAD Pages program took place in Atlanta, Georgia and it was a huge success! We look forward to a fun and positive experience with the Jr. NAD Pages program!