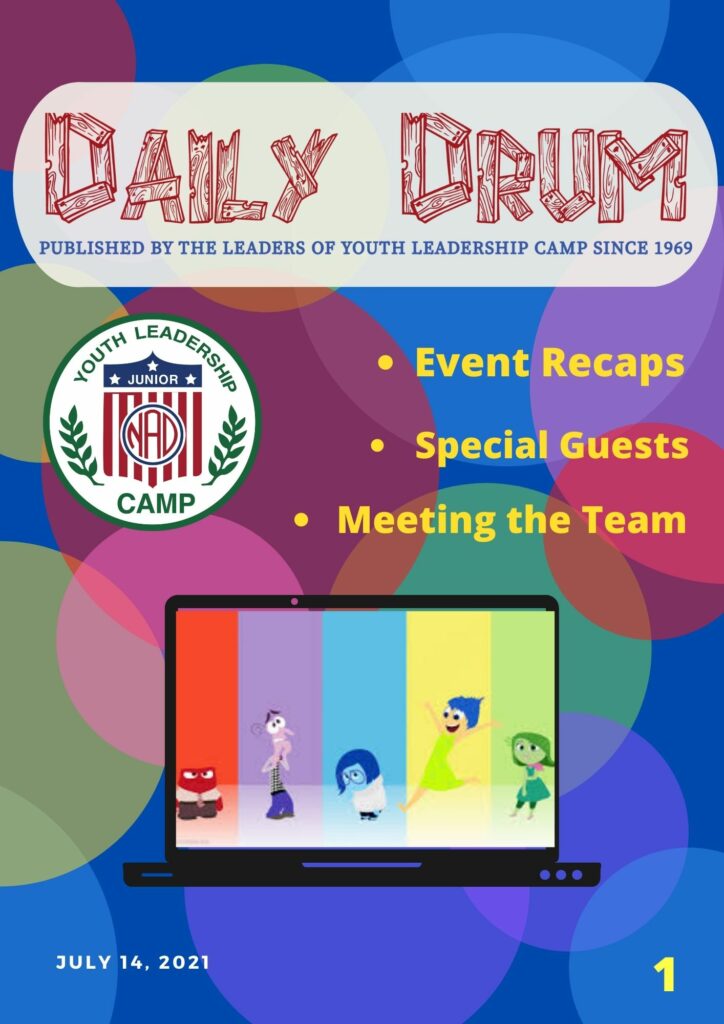 READ THE ISSUE HERE: https://issuu.com/nad1880/docs/d_team_2_
TEXT VERSION ONLY:
FRONT PAGE: A dark blue background with colored circles. Header: "Daily Drum: Published by the Leaders of Youth Leadership Camp since 1969". YLC logo is placed below the header, on the left of the bulleted points with text: "Event recaps, Special guests, Meeting the team". There are different characters in the laptop graphic. Text: "July 14, 2021, page 1".
PAGE 2: Purple background with several circles. Text on top: "Meet The Team Insouts". There are nine graphics of an illustration of the team members, 3 in a row with 3 columns. Text on the right: "Alejandra Acosta, Ella Stromberg, Dustin Hand, Jamie Gleason, Alona Zfati, Zara Thompson, Archie Jr. Howard, Elizabeth Adamson, DeMontae (Jude) Joseph, and Not Pictured: Jasmine Jimenez Lara." Text on the bottom: "Made by Dustin Hand, page 2".
PAGE 3: Green background with several colored circles. Text on top: "Events". There are two boxed texts next to images. First row: text: "Escape room, All leaders were divided into five groups to work together to get out of the room." Photo of a group of leaders trying to solve a riddle on the google form. Second row: Photo of Emily and Andria asking what the rope knot is. Text below: "Hiraeth Quartz won first place!" Text next to the image: "Camp Bowl, Emily and Andria hosted Camp Bowl for everyone to review our memory about YLC history and its program."
PAGE 4: Blue background with several circles. Text on top: "The Interview". An image of Chelsea with subheader text: "Chelsea Lee (She/They), Assistant Director". Article text: "This year is Lee's first year as the YLC Assistant Director and they feel so blessed to have Virtual YLC this year. Lee had an opportunity to see the current leaders. She defined the leaders as 'a group of leaders is one of most resilient group.' After the COVID-19 pandemic happened and played a big role in canceling in-person camp, that resulted in a Virtual YLC. Although this was a big chance, Lee believed that one thing will not be changed, which is 'to give you all the opportunity to learn about yourselves, grow as a leader, and make a difference in your communities. ' Lastly, the current leaders asked for an advice after everything happened, Lee said 'always remember to seize every opportunity to learn and grow. Step out of your comfort zone to try something new.' Written by Ella Sromberg & Jamie Gleason". Page 4.
PAGE 5: A colorful background with colorful circles. Text: "Special thanks to…" Text: "Editor in Chief" with two close up photos of DeMontae and Elizabeth. Text: "Designers" with two close up photos of Archie Jr. and Alejandra. Text: "Writers" with two close up photos of Jamie and Ella. Text: "Editors" with two photos of Alona and Dustin. Text: "Team Insouts, Page 5".